EDI Partner Setup
To begin exchanging EDI documents with Partners, each such Partner must be defined into the EDI Generator, along with the ISA and GS identifiers, and the various segment, element separators and the EDI version used etc. To perform this step, navigate to 'EDI' and then 'Partners' from the Menu.

You can import existing Partner definitions such as for Walmart or Advanced Auto Parts etc easily, by clicking on the 'Import Partner' button.

2.1 Create / Edit Partner
Click the partner creation button with the plus sign at the top left to add a new Partner. You can also edit or delete Partner definitions from the table view.
Partner Name: This is a user-friendly name for each Partner (e.g. Walmart)
Partner AS2 ID: This is the AS2 ID for the Partner, configured in the MFT Gateway 'Partner' definition
Description: For additional identifying information
File Type: One of X12, EDIFACT for EDI Partners
Auto Acknowledge: Issue a 997 FA for all incoming document types automatically, if checked
ISA ID Qualifier: Specified by the partner, or 'ZZ' for mutually assigned ID
ISA Identifier: Used in the ISA header to identify partner. Usually a DUNS number or mutually assigned ID
GS Identifier: Used in the GS header to identify partner
Unless you are advised to specify any values, leave this untouched
X12 Version/Release: Value for GS8 header element. e.g. 005010
Interchange Version: Value for ISA12 header element. e.g. 00501
Ack requested: ISA14 header element. Usually this might not be used, and could be left at default value unless the partner has indicated any other value
Usage indicator: Usually defaults to 'P' for 'Production'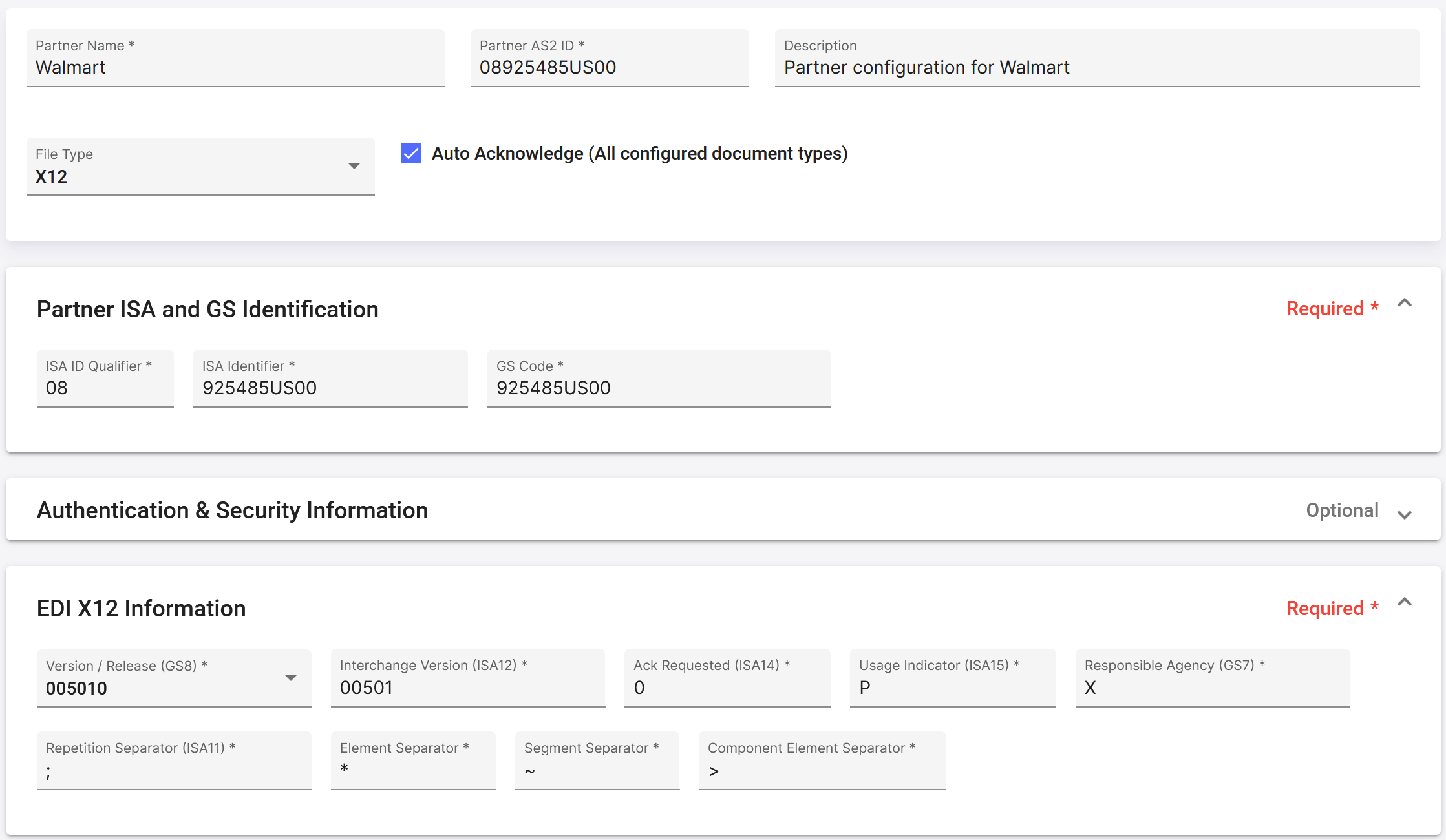 ---