Confidentiality, speed, accuracy, availability, and reliability of data are the paramount concerns in a business matter. Managed File Transfer(MFT) is a reliably used solution for high-level EDI and all types of document sharing. The AS2 protocol is a much more secure and reliable way to exchange data with partners in B2B communication, rather than traditional file transfer mechanisms such as FTP, FTPS and SSH file transfer protocol.
What is AS2 (Applicability Statement 2)?
AS2 acts as an envelope and is known for file security, integrity, non-repudiation, and cost-effectiveness and productivity when sent via HTTP over the public internet. The AS2 protocol is not affected by concerns about traditional transactions such as transaction cost issues, data access difficulties, system integration, and downtime issues.
AS2 is a universal solution for managing file transactions, allowing you to exchange purchase orders, quality inspection documents, invoices, advance shipping notices and many more confidential documents with partners around the world.
Benefits of AS2 protocol
In brief, AS2 is a universal solution with lower cost, flawless functionality, efficient and very low-latency transactions, and minimal practical challenges to transfer any number of files via the Internet using HTTP/S.
Key features of AS2:
Encryption
Using the public-key cryptography mechanism, the sender uses the recipient's public key to encrypt the message, hiding the true meaning of the information so that only the recipient can decode the message using his/her private key.
Digital Signatures
A digital signature is a mathematical scheme for verifying the identity of the message sender. The sender signs the message using his/her private key, and the receiver can verify the signature by using the sender's public key to validate the authenticity and integrity of the message.
Compression
Compression reduces the overall transfer size to reduce transmission time and save bandwidth.
Message Disposition Notification (MDN)
MDN is an electronic return receipt, which the sender can request either synchronously or asynchronously, to ensure that the receiver received the message intact.
Message Integrity Check (MIC)
It is legal proof of delivery. The sender calculates the original message MIC value by using a hashing algorithm and stores the value on his/her side. When the message is received, the receiver calculates the received message MIC with the same algorithm used by the sender. Then the calculated MIC value is sent back to the message sender with the MDN. The sender compares the received MIC value with his/her stored MIC value to ensure that the received message was identical to what he/she originally sent, and has not been tampered with, or altered, in the middle of the transaction.
AS2 Gateway: The Smart B2B trading platform over the AS2 protocol
Aayu Technologies LLC produces a Managed File Transfer Solution called AS2 Gateway for B2B communication using the AS2 (Applicability Statement 2) protocol. AS2 Gateway is one of the best B2B messaging platforms that can help you digitize the business securely and reliably using either the service (SaaS) version or the on-premise version.
Want to learn more about key detailed facts on AS2? Check out here.
Let us look at how AS2 Gateway significantly contributes to the B2B file transaction process.
AS2 Gateway: Rich in universally accepted security practices
AS2 Gateway is fully compliant with the technical background of RFC 4130 by ensuring data security with data encryption, digital signature validation, and guaranteed integrity with MIC (Message Integrity Check) hashing. AS2 Gateway web console, SFTP, REST API and webhooks are the methods by which AS2 Gateway users can transact files. A user can merely configure AS2 configurations by changing the toggle of the partner's advanced options.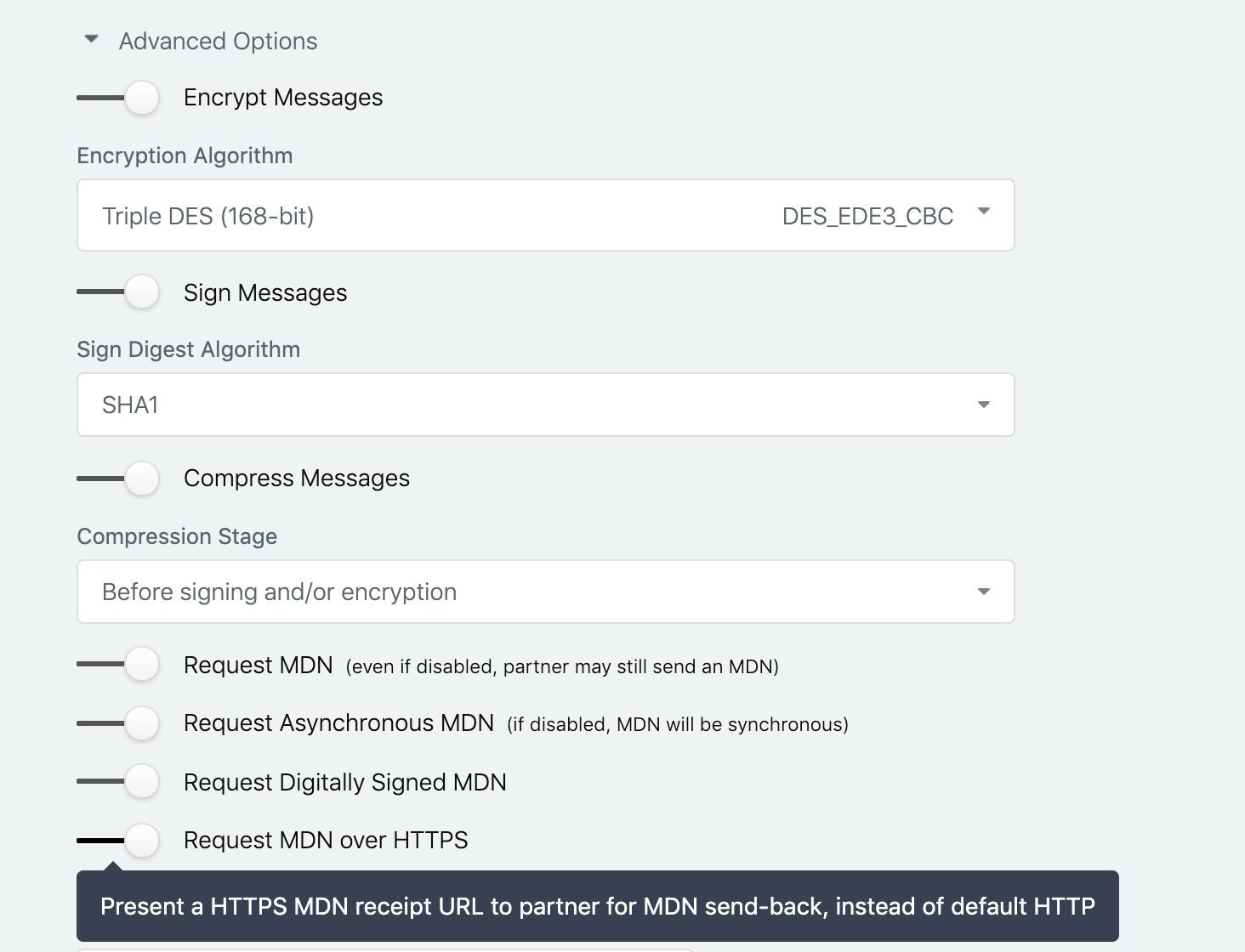 AS2 Gateway with SFTP integration
With username and private-key based authentication, AS2 Gateway users can submit files to their outbox for sending over AS2, and retrieve files received over AS2 in their inbox, via SSH File Transfer Protocol.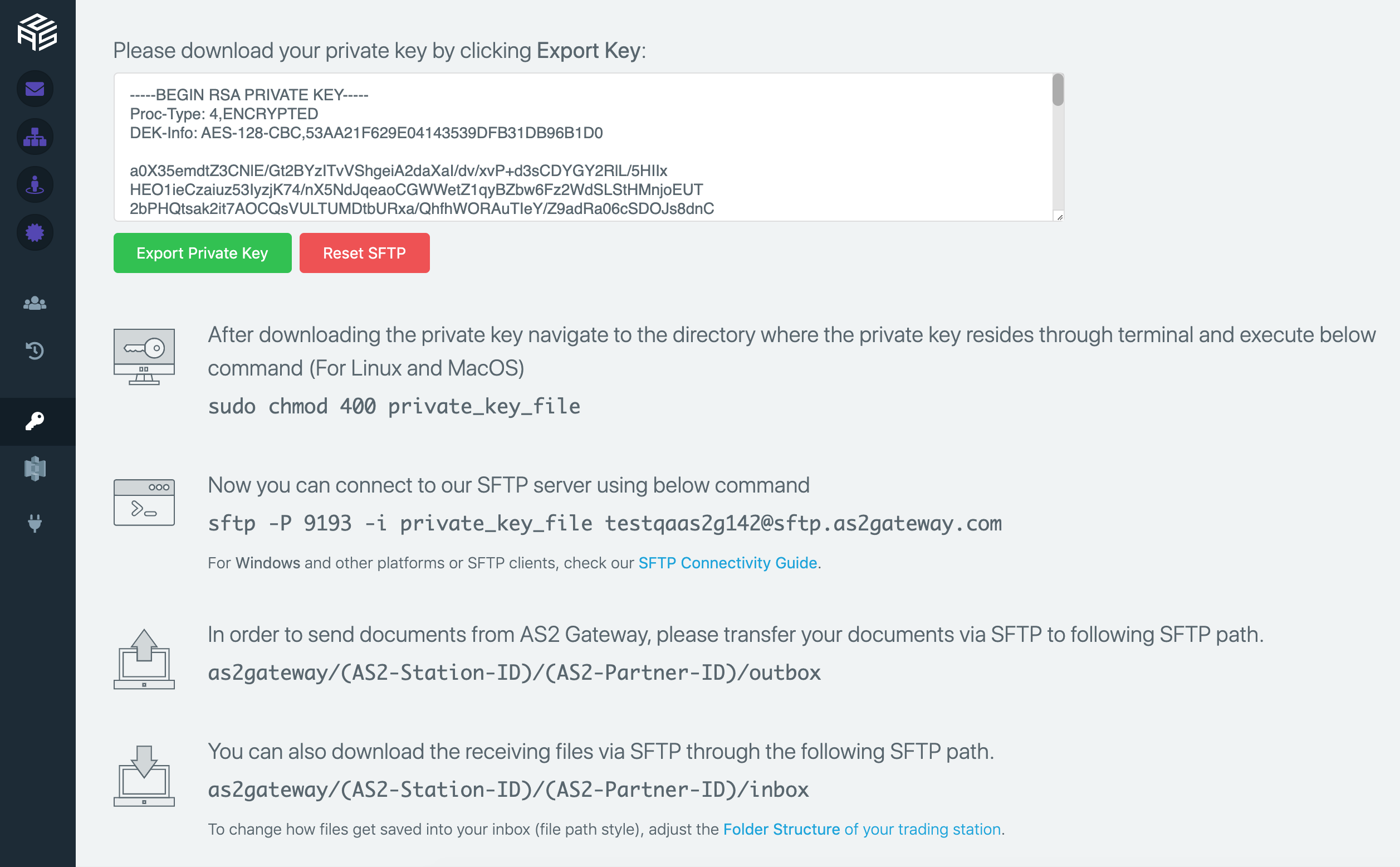 AS2 Gateway with REST API integration
Users can submit files to their AS2 outbox, and list and retrieve files received to their AS2 inbox, by making HTTPS requests to the AS2 Gateway REST API endpoint. Click to learn more.
AS2 Gateway with Webhooks integration
AS2 Gateway users can configure webhook URLs to receive notifications of incoming messages and MDNs for desired stations and partners. Webhooks act as an instant notification mechanism and can push real-time information about file transactions to any HTTP-capable external system. Click to learn more.
AS2 Gateway: User Management
Within AS2 Gateway, organizational-level management can give users role-based permissions to engage in various levels of business transactions. For example, an Org-Admin can configure specific permissions in a categorized format at the role-based level, such as the ability to view and/or modify partner, station, message, or audit entities. User-group based levels can assign one or more roles to each user group. The users-based level can assign a user to desired user groups, which will grant them access to just the right scope of actions and operations involved in file transactions.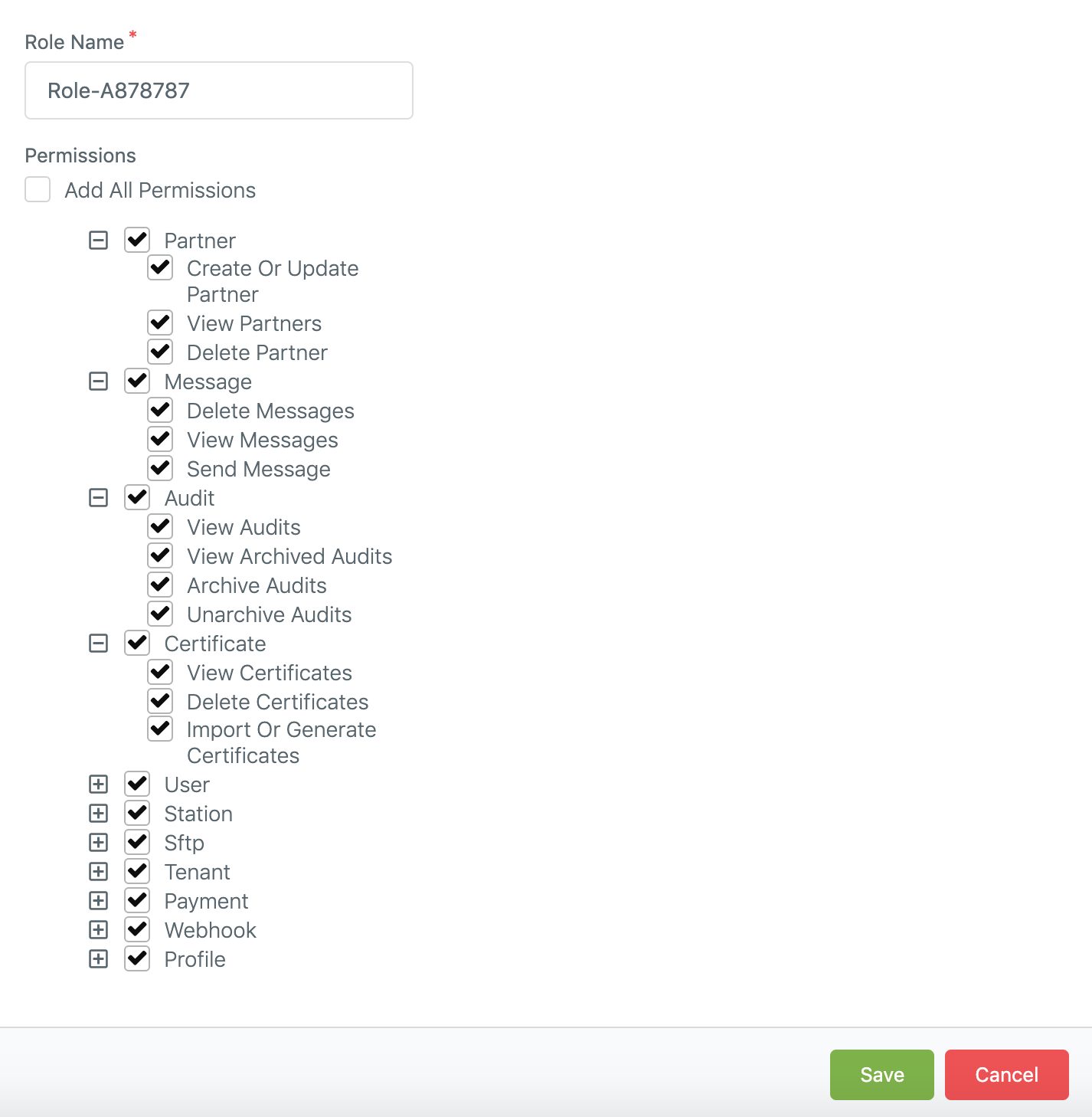 Users are allowed to perform separate tasks on the AS2 Gateway, providing an essential security feature for remote workflow, and user access management.
AS2 Gateway: Dashboard
By selecting the desired time frame, you can summarize the file transactions of a single station/partner or all stations and partners in a graphical representation. This will help you to understand the file transaction volume over any desired time range in order to identify usage patterns, growth, and scaling requirements.
AS2 Gateway: Audits
AS2 Gateway provides better insight for all file transactions, configurations, and user activities by tracking them under the audit logs. This module tracks user activities like uploading, downloading, deleting files, etc. All audit events are classified into severity levels and can be filtered and viewed by authorized users from the AS2 Gateway web console.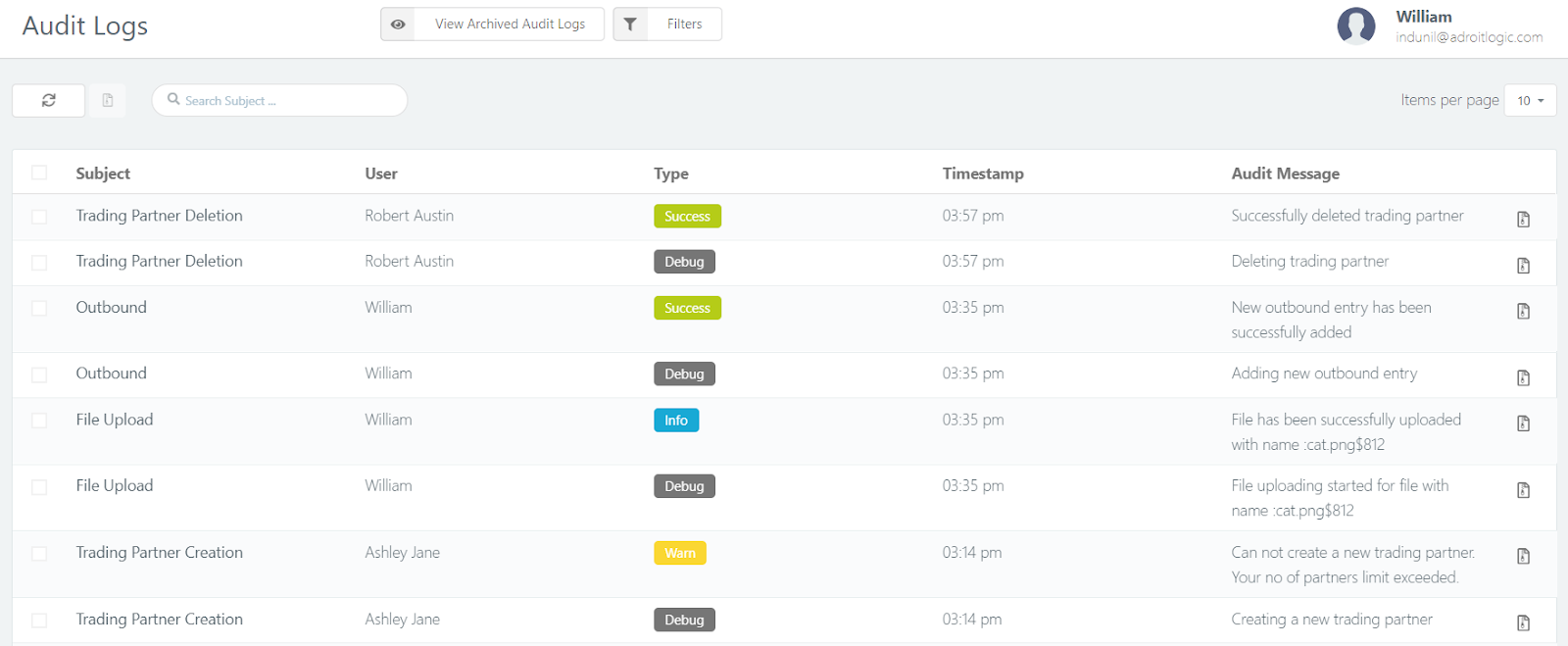 AS2 Gateway: Certificate Management
Certificates are a key requirement in AS2, and proper certificate management helps to optimize configuration management and partner connectivity. Users can receive AS2 messages from their partners with added HTTPS security, over the 443, 4080 and 8443 ports by the latest TLS versions and trusted SSL certificates. AS2 Gateway offers a certificate manager view that simplifies the configuration process by allowing users to easily perform actions such as generating and exporting certificates in different formats, importing trusted partner chain certificates to the trust store, and reviewing certificates associated with all your trading entities under one dashboard.
Conclusion
AS2 is a universal, reliable, and secure B2B data transmission method, used by many major retailers such as Amazon, Walmart and millions of businesses worldwide. AS2 Gateway helps to digitize business in a friendly environment with all the necessary steps of B2B communication while concealing the complexities of AS2 protocol integration. The support of AS2 Gateway will help to grow your business transactions with a smooth user experience and to ensure secure and reliable B2B trading for the business.
Sign up today without credit card details for a free trial with unrestricted access to transact files through AS2 Gateway Dashboard - integrate and automate the transactions using the REST API, SFTP & webhook integrations for 30 days.
👉 New to AS2? Do not worry.  Click here to explore our blog posts to learn more about AS2