Mistakes are inevitable at times, regardless of all technological advancements. While we expect technology to increase productivity, it follows with the basic requirement to find new ways of avoiding mistakes. MFT Gateway is one such solution that provides a maintenance-free, scalable and resilient platform for your B2B trading over AS2 for businesses of all sizes and shapes. Hereby, we look at how its Enterprise Plan helps to mitigate common mistakes you might make when handling large message volumes at the enterprise level.
Guaranteed delivery is one of the most important aspects of using managed file transfer, but most of the products that support this service comes at a larger cost. When cost is a concern, a serverless MFT gateway can assist to automatically manage the retry process. This is done in two ways:
In case of a temporary failure (due to network issue etc.), the system automatically retries the message (up to 10 times), so that once the issue is resolved the message will be sent to the partner's system without further delay. At the same time, if the number of automatic retries assigned is exceeded and yet the message fails to be sent, it will be added to a Failed Messages list and the user can manually retry it later.
If the receiving system is completely down and rejects all the messages; MFTG keeps the message in the Failed Messages list. So even though the message is not delivered, the system ensures that the message is not lost. The user will be kept informed via email regarding such failed messages.
Server downtimes are often considered as a common excuse given by service providers that create availability and scalability issues between trading partners. MFT Gateway comes out clean in this situation as a completely serverless solution for B2B trading of any scale. MFTG comes with the option to have an unlimited number of stations and partners from 200 to 500 based on the selected pricing options.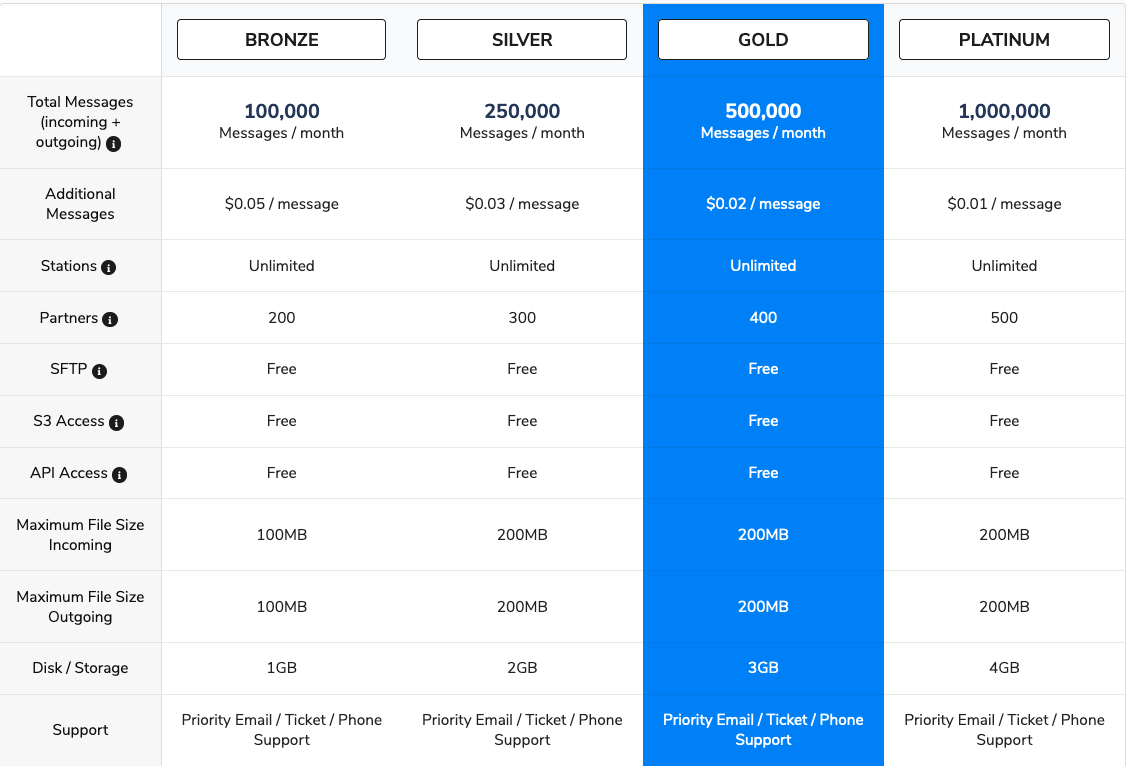 Automated workflows are considered important to ensure seamless integration with existing B2B applications. Hereby, MFTG comes in handy to support SFTP integration for traditional applications along with passphrase-based key protection and different key formats (PKCS1, PKCS8, or PPK). The system also supports direct AWS S3 access and REST APIs to automate message flows, and Webhhok Integration to connect your external application in real-time with MFT Gateway AS2 message flow.
The importance of using industry-compliant technology is much spoked about in the time due to compatibility issues that occur when working with multiple service providers supporting the same product/service in different ways. MFTG provides AS2 protocol which is a standard protocol in B2B trading across various industries such as logistics/supply chain management, warehouse management, manufacturing, healthcare, etc.
Security for your online trading can come at a major cost if not assured. MFTG shares this burden by making sure that a secure and reliable process is maintained by supporting multiple Encryption Algorithms and Sign Digest Algorithms so that they can only be decrypted on the partner's end, using the corresponding private key.
Well, while getting the technology right, it is also important to understand that these complex systems are used by regular business people who might not be able to understand the development efforts and coding that go into building these platforms. This is why a user-friendly dashboard becomes a key selling point for MFTG by making the operation as easy as using web-based email; by hiding the complexities of having to deal with complicated AS2 protocol integrations.