For any enterprise, sharing information from one party to another is a core business process. Users have been sharing information both sensitive and non-sensitive between many networks around the world, internally and externally for decades. In the early days, users were looking for simple, inexpensive file sharing protocols without much consideration about security and management capabilities.
There is a significant number of file-sharing protocols in the market. File Transfer Protocol (FTP) is one of the oldest and most popular methods used over the decades and is the basic data transfer form over the Internet. Manage File Transfer (MFT) is an evolution of FTP that offers more than just file transfer capabilities. Both of these options stand out in file sharing solutions in their own ways.
Considering both of these protocols, Let's see what is the best file transfer mechanism by comparing the factors we should consider when choosing a file transfer protocol, and what are the best features available in a file transfer service to help your business operations to run smoothly? etc…
What is an FTP server?
FTP is a communication network protocol evolved in 1971 to transfer files between endpoints on a network using the client-server model. In short, FTP performs 2 basic tasks: "put" and "get" functions, in which senders can put files to the FTP server and the recipient can get files from the FTP server.
FTP: Benefits and Drawbacks
FTP is a popular protocol because it's an easy, fast, and inexpensive way to transfer files between two entities such as applications, file servers, and trading partners. Some top FTP benefits are:
FTP is a widely used standardized protocol available for all operating systems (Linux, Windows, Mac).
It allows you to transfer multiple directories at once, and users can work continuously while the transfer process is going on in the background.
FTP is capable of transferring large files in the gigabyte range. & If any interruption happens, a user can resume an interrupted file without starting from scratch.
Considering the evolution of the business-based data community, users started sharing confidential business information, personal data, and other sensitive information. With these new requirements, FTP was no longer an efficient way to address the business concerns.
Security issues with FTP: The FTP tunnel is not encrypted; therefore when sending or receiving, data is transmitted as plain text and is open for interception by third parties.
Lack of visibility: Many FTP solutions face inability or inconsistency to track what has been uploaded on the remote system.
Management & Automation issues: If any data breach or mishandling happens, it is hard to identify the source of the problem. FTP does not provide status information on transferred files, and notification about the receipts, or transmission of data.
The Solution: A file transfer method that goes beyond the basics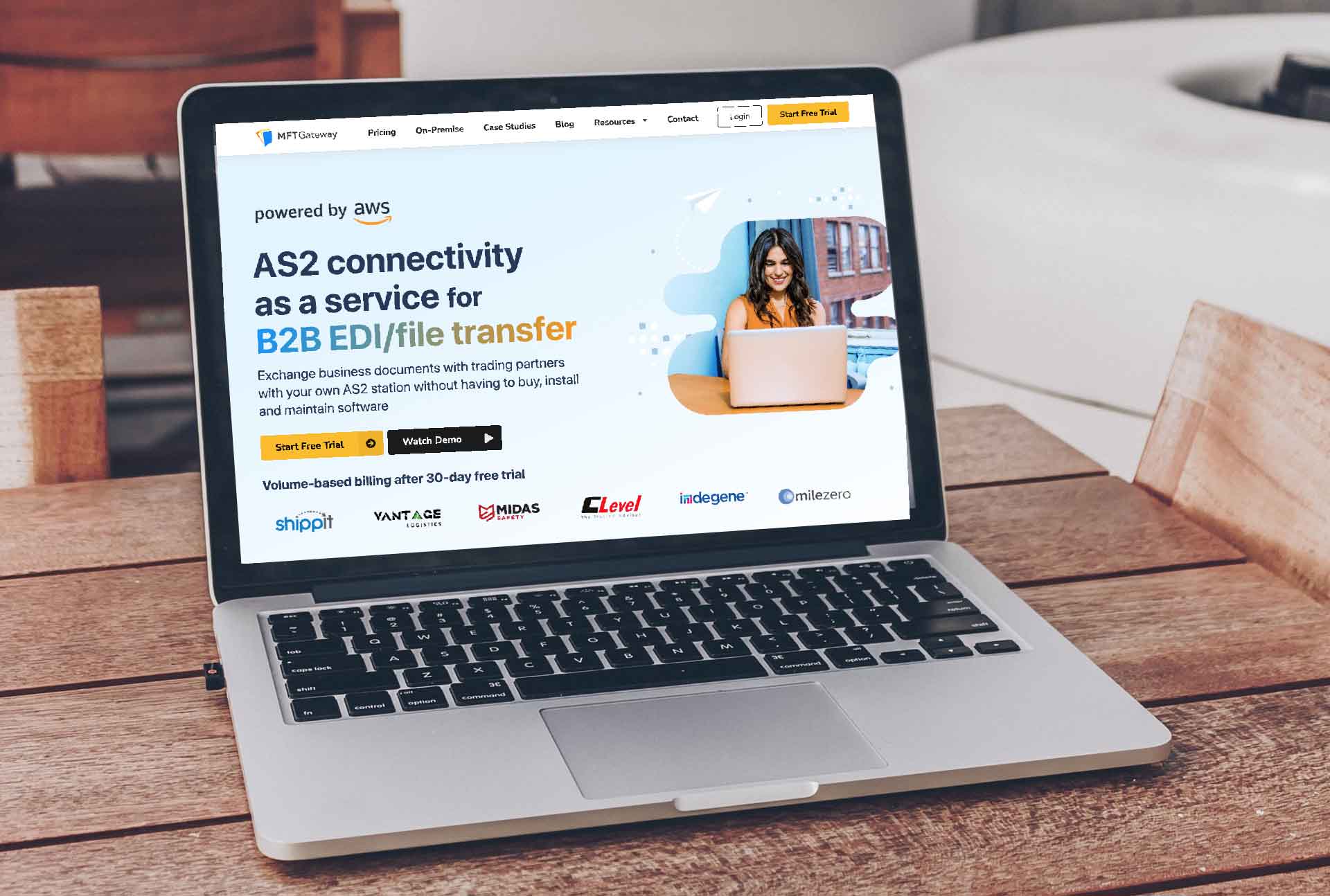 What is Managed File Transfer (MFT)?
Managed File Transfer (MFT) is a secure solution that streamlines all aspects of file transfers towards a modern approach. MFT ensures a secure connection and centralized file transfer system by complying with industry standards. MFT provides a range of features that can overcome all FTP's drawbacks, simplifying the business process.
Managed File Transfer (MFT) Benefits and Drawbacks
The top drivers for selecting MFT over FTP are as follows:
Security: MFT offers increased security and reliability in many ways. It has end-to-end encryption by requiring a private encryption key to decode the message. MFT supports multiple secure protocols such as AS2, HTTPS, FTPS (FTP over SSL/TLS), SFTP (FTP over SSH), etc.
Reliability: MFT tracks the file status movements and gives a file delivery confirmation, to facilitate negotiation in case of data loss or inconsistencies.
Administration: With the administrative benefits of MFT, admins can set end-user permissions, manage file transfer environment, set up real-time monitoring, manage file storage and transfers, and meet compliance requirements by performing server and domain logging, auditing, etc.
Automation: MFT can automate the file transfer activities such as scheduling file transfers, setting expiration dates for file storage, deletion, event-driven actions, and reporting and sending notifications for defined activities.
Fit to your purpose: MFT is a customizable solution that simplifies server-to-server file transfers. MFT saves operating costs and saves time by offering speed and efficiency in digital transfers. The features of MFT help to secure and maintain transfer support for multiple file types, including EDI, XML, PDF, ZIP and more. The visibility of data movements will help in proactive issue resolution.
When you choose the right technology for file transfers, you also need to choose an MFT product that is best suited for you. There is open-source managed file transfer software in the market. Many businesses use open-source managed file transfer software for their business needs but it is not suitable for all needs.
Time-consuming to set up and maintain: Depending on the maturity of the open-source option, users may encounter errors or problems. For these reasons, users spend time setting up and maintaining or need to take up the IT hand to solve the issues.
Support isn't guaranteed: Although the software is free, you may have issues and have to handle them without technical customer support. If the user community does not have an answer for you and offers an option with a fee, the cost can't be predicted.
Less feature-rich: The open-source managed file transfer option doesn't have all the key capabilities of a true MFT solution. Commercial MFT solutions are rich with dedicated development teams with the R&D, industry best practices, enhanced features up to date, and looking to address business standards.
With the above concerns, choosing a commercial MFT solution will give a great advantage for your business. Some considerations for choosing an MFT solution are the file transfer volume, method (or protocol) of transferring the files, compliance requirements, reviews/ratings and feedback from other users, cost, and trial and demo options.
Why MFT Gateway can be the ideal solution for you as a Managed File Transfer software?
MFT Gateway is the world's first and only Serverless AS2 gateway by Aayu Technologies that leads on MFT solutions. MFT Gateway is a hosted Software as a Service (SaaS) solution that can exchange files over the AS2 protocol, without having to install and maintain software on your own. Applicability Statement 2 (AS2) is a widely used protocol that uses digital certificates and encryption standards to exchange and protect critical file transfers.
MFT Gateway supports AS2 transfers via its web interface and a number of automation integrations like Amazon S3 cloud storage, SFTP and REST API, and will be supporting other file transfer protocols such as SFTP from 2022. The MFT Gateway is powered by AWS, and it is also available to deploy on your own AWS account. MFT Gateway's intuitive environment hides all the complexities of AS2 protocol integration and helps to avoid mistakes when sharing business documents. MFT Gateway offers the most competitive pricing plans for all scale businesses, and you can select a volume-based billing plan after experiencing all MFT Gateway features with a 30-day free trial.
For every MFT Gateway file transaction, it provides Encryption standards, Digital Signature Verification, Compression, Message Disposition Notification receipt, and Integrity Check. File transfer-related activities such as automation, reporting, global visibility, user management and performance metrics will help businesses grow faster in the present and the future. Read on to know how MFT improves your business workflow.
Conclusion
Choosing the best file transfer solution is a long-term investment that helps to handle file transaction workloads efficiently. In your quest to find the right server for file transactions, MFT will often be the best fit for your business requirements. Sign Up for a 30-day MFT Free Trial! Stay tuned for more updates!